The Moon Man Halloway Jr. is a recurring character in Porkchop n' Flatscreen. Although his real motives are unknown one of his goals is to break up Bobby and Ayane's relationship.
Not much is known about his history but it is revealed that he is in the same ninja clan as Morrigan. When Halloway fell into a ditch and was crushed by boulders Morrigan rescued him and brought him into her clan. He was also involved with killing Mai's clan and was the one who convinced Morrigan to spare Mai, telling her that "they did enough". Now he is a student at the Maximus Institute for reasons unknown and he now knows about Ayane and Bobby's "relationship" and does everything he can to break them up.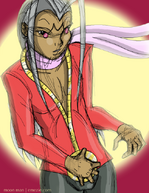 Personality
Edit
Halloway has a mysterious personality, and his morals are not clear.
Halloway Jr. takes romance very seriously. So, when he believes that Bobby Sykes is mistreating the institution of love by lying about his feelings, he forces Bobby to choose between Ayane Shiun and Mina Kim in a life or death situation.
Appearance
Edit
He has long grey hair with bangs that form the shape of an M. He wears small glasses with gold rims and pink shades. The bridge of his glasses also have the same shape.
Can see into a person's heart by kissing them.
He says he is married with the moon according to Emezie.
The reason Halloway loves the moon is because "she was there when he hit rock bottom."